Seize the day! 30% discount for Blockchain & Bitcoin Conference Thailand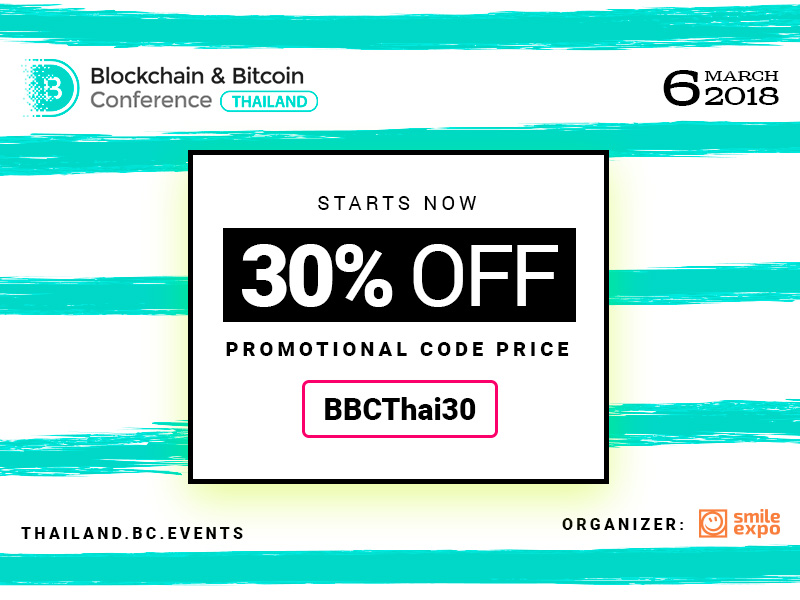 Only between February 22 and February 28: buy tickets to the first Blockchain & Bitcoin Conference Thailand in Bangkok with 30% discount.
Discount price = 10500 THB (269 EUR)
Regular price = 15 000 THB (385 EUR)
Special offer is valid 7 days only.
Use promo code BBCThai30 during the registration.
Attendees of Blockchain & Bitcoin Conference Thailand will enjoy the reports of 15 crypto industry experts from 10 countries. Speakers from the USA, Russia, Australia, the UK and Thailand will share not only their knowledge and experience, but also reveal the insider information, give useful tips and discuss successful practices.
Event attendees will get answers to the most topical questions:
How to attract investments for business using blockchain?
How to start tokensale effectively?
What are the pros and cons of the cryptocurrency market regulation?
How to successfully invest in crypto assets?
What are the prospects of blockchain and cryptocurrencies in 2018?
Topics and speakers
Headliners of the conference are:
Keith Lim, founder and CEO at Hearti. Topic of the speaker's report: 'Relevant trends in the blockchain industry and current condition of the cryptocurrency market'.
Noam Copel, CEO at DAV Foundation. Noam will make a report on 'How to value a token'.
Dana Farbo and Pete Wassell, COO Founder/CEO at Augmate Corporation. In their report, Dana Farbo and Pete Wassell will address the topical issue: 'How distributed ledgers can tackle IoT's biggest flaws'.
You will also listen to the reports of Joseph Tsou, Taiwan (Managing Director, BlockEx); Vladislav Sapozhnikov, Russia (Co-Founder and CEO, Deex.Exchange); Cal Evans, UK (Lawyer and Cryptocurrency Compliance Consultant); Gennady Volchek, Australia (CEO, Shping); Jeremy Goodwin, USA (CEO, blockchain.syncfab.com); Nithinan Jessie Boonyawattanapisut, Thailand (CEO & Founder, Hotnow), Serge Lobreau, UK (CEO, Flashmoni).
Other activities of the conference
Blockchain & Bitcoin Conference Thailand will include a panel discussion dedicated to ICO regulation in Thailand.
The event will also feature an exhibition area, featuring trading platforms, suppliers of equipment for mining farms, software developers. Conference guests will be able to learn about the products of such companies as Exenium, Tradingene, Skychain, DEEX.EXCHANGE, CoinTraffic, Manli, Shping, Flashmoni, Iryo and others.
The event will be held on March 6 in Pullman Bangkok Grande Sukhumvit. Program and registration is available on the website of Blockchain & Bitcoin Conference Thailand!
Please rate this news:
(53 votes, average: 3.7 out of 5.)