Meet Joseph Tsou: head of BlockEx and ВВС Thailand speaker!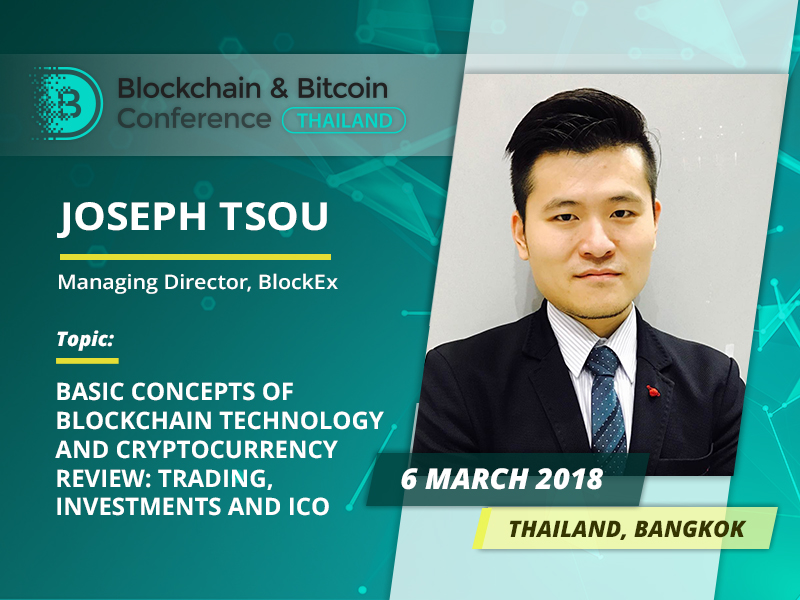 Those starting exploring the cryptocurrency sector will be able to align their knowledge at Blockchain & Bitcoin Conference Thailand: Joseph Tsou, a specialist in fintech, financial services and blockchain technologies, will reveal basic concepts of the cryptocurrency world.
He will talk about trading and investments in tokens and coins as well as about ICOs.
Mr. Tsou is a managing director at BlockEx. He has a long experience in such areas as capital management, FinTech, Digital Transformation & Big Data Analytics. Besides, he has been running the blockchain company for more than a year, providing the interaction of the financial industry and fintech startups. His company, BlockEx, is a platform for exchanging various digital assets and tools for them. Currently, the company is expanding its influence in Asia with Joseph Tsou leading this process.
The expert's presentation at ВВС Thailand is aimed at representatives of companies considering the integration of blockchain and specialists aiming to improve their decentralized technology skills. Joseph Tsou will tell the audience about basic concepts of blockchain technology and main terms related to trading, investments and ICOs.
Please rate this news:
(99 votes, average: 3.7 out of 5.)