Vladislav Sapozhnikov: "You should create products, not hype around your ICO"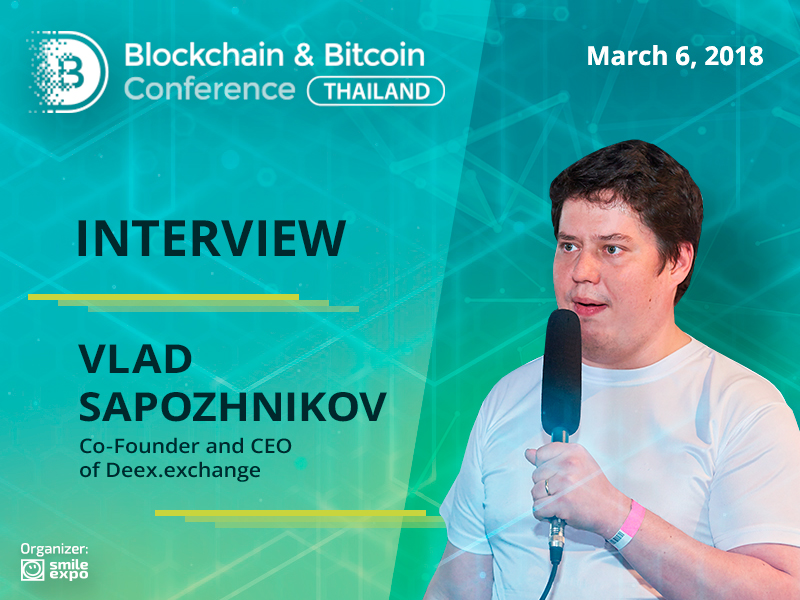 Many companies are holding ICOs as a way of collecting financial resources, few teams are developing products, says the CEO at Deex.Excange Vladislav Sapozhnikov.
He heads a decentralized cryptocurrency exchange project, which collected 1/3 of required funds in the first week of sales. In the interview with BBC Thailand journalists, Vladislav talks about how to increase credibility of the ICO, what real ICO projects should be like and what are the advantages of the code of rules for the ICO.
Interviewer: Blockchain & Bitcoin Conference Thailand (BCT)
Speaker: Vladislav Sapozhnikov (V.S.)
---
BCT: Do you think platforms like BitShares are the future of blockchain technology?
---
V.S.: As of now, BitShares is the most underappreciated blockchain. It is also the most loaded one in terms of transaction volume. If we're talking about blockchain as a technology, it owes its appearance to bitcoin. Therefore its usefulness should obviously be measured by its demand and employment.
The speed in BitShares is up to 100 thousands transactions per second. It's the best option for building highly loaded transactional systems. Its main problem is lack of good marketing and a community, which other cryptocurrencies have. I hope we will be able to improve these parts of BitShares to bring the coin's growth to a fair market value.
---
BCT: The popularity of blockchain is growing every hour, but many people still do not understand what it is. Do you think it is necessary to hold blockchain education lectures? Where would you start?
---
V.S.: Hype is one of the reasons of blockchain's popularity. It's been working for 9 years solving the problem of double costs in digital assets transfer. But as we can see, massive practical application has not yet been found. I believe that not only population, but also potential consumers of blockchain themselves, do not fully understand what it is needed for. As for lectures, I can say that we regularly hold them, inviting blockchain specialists to speak.
---
BCT: What do you think should be done to increase the credibility of ICO?
---
V.S.: People should create good products, rather than hype around the ICO, collecting huge amounts of money. Only one-hundredth of the projects that held an ICO have a good product, but even those are still beta versions. Today ICOs are held only for startups to compete in the amount of collected money.
---
BCT: The Swiss Crypto Valley Association created a code of rules for ICO. What do you think are the pros and cons of this innovation? Is something similar possible in Russia?
---
V.S.: I think it's a great idea. If it's implemented properly, it will stabilize the market. It can also lead to an increase in the number of really cool ICO projects. Russia is working on it as well. Moreover, there even have been attempts to launch some regulated ICOs.
---
BCT: The instability of the cryptocurrency rate is one of the most relevant issues today. What future do you think awaits bitcoin? Will it really turn out to be a bubble, as many believe?
---
V.S.: Bubbles are a usual thing for financial markets. Gold rush, railroad boom, mortgage crisis – each of these events already took place in the economy.
The cryptocurrency market also has characteristics of a bubble: cryptocurrency is not used widely, it does not act as money. Perhaps, on the basis of the variety of cryptocurrencies a certain cryptocurrency 2.0 will appear, which will have the potential to become an ideal digital value.
Register to Blockchain & Bitcoin Conference Thailand!


Please rate this news:
(82 votes, average: 3.7 out of 5.)